Welcome to the Hempire Wiki!
What Is Hempire!
From ganja to glory - get ready to grow your operation into a mighty Hempire!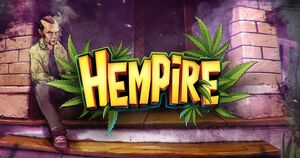 This is the ultimate weed growing game. It doesn't just stop at the pot: you must harvest your plants, breed new and unusual strains, make friends (and enemies), and eventually take control of your entire home city to be victorious.
But watch your back! Just 'cause weed's gone legit doesn't mean you're safe! Hempire is a story driven joint, so get ready to deal with corrupt cops and shady businessmen, while also helping old ladies bake brownies. For real. 
Features
Grow your Hempire. Your pot-ential is limitless.
Grow popular cannabis strains starting from the classics like Northern Lights and Chemdawg.
Use the lab to breed and discover new strains and remain at the top of the industry. 
Craft marijuana extracts like hash and shatter, and edibles like cookies and brownies.
Customize your grow op with new equipment, lights, and generators as your business grows.
Complete deals with game characters to unlock new features and strains.
Generate huge cash by selling your product in the dispensary.
Invest your money in local businesses and real estate and develop your city. 
Start with one bud and grow your business, your Hempire, into a billion dollar enterprise.
Multiplayer Competition. The Hempire Cup: Compete against other players to breed the highest quality strain winning trophies in the Hempire Cup.